TOMORROW'S TECHNOLOGY TODAY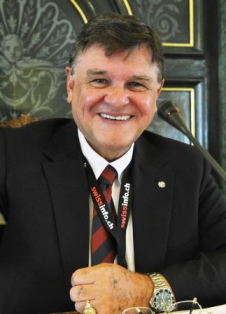 John T.C. McGough
Managing Director of Trialptek GmbH
About us
Our company "ShvabeZurich GmbH" was founded in 2007. We are located in Zurich, Switzerland. This central location enables us to serve our customers from around the world. We're fast growing company which has gained a good reputation in developing, manufacturing and supplying of medical equipment, lighting devices, and surveying instruments.
Our philosophy:
We focus on providing to the customers with innovative, precise and reliable products and first class service. The most important for us - increasing of customer's satisfaction, high quality of goods and efficiency of work.
Our main principles:
Constant improving and modernization of the products according to the customer's needs and market developments
Ensuring global product quality
Creating an effective work environment
Orientation to have a long-term business relations to our partners
Openness and efficient support of our clients all over the world
You can download our presentation here.

Our products
Our product range of
is constantly being updated with new models according to the newest market trends. According to the needs of our customers we are constantly seeking the best solutions and ways to improve our products. Innovative development skills and know-how, together with careful production practices, and processes of optimizations allow us to offer our customers the safest products with both high quality and reasonable prices, meeting the personal requirements and individual needs of our clients. We work on the principle in production – a good device should be adapted to the client and not the client to the device.
Guarantee of quality
We value the highest production standards, uncompromising quality of materials and component parts, and attractive design. All our products are complied with international norms and standards. Medical equipment is certified under Medical Devices Directive 93/42/EEC (CE designation), meet the requirements of Medical Devices Act and all relevant safety and electromagnetic compatibility requirements. This means that our business is subject the strictest quality regulations and we take care about efficiency through all stages from initial production to customer service.
International activity
True Swiss quality of our products is combined with a flexible policy of our company and the willingness to open new markets. Since the foundation our company it has gained a reputation of a trusted partner in many European, Asian and African markets and created a network of representatives and dealers in over 40 countries in the world. Our policy in international trade - to build a long-term partnership based on trust. We aim to directly reach our clients and value their business: we are ready to offer a full product consulting, installation and technical training wherever our client is in the world.

Modern technology from the very beginning, innovative development, flexibility and openness to the changes in a global marketplace and creating safe technologies: ShvabeZurich GmbH – Competence & care everywhere.