DS5-5, DS6-12 Road traffic lights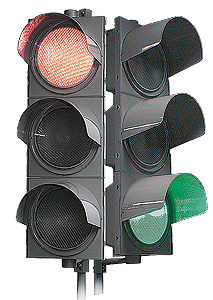 Size
Module
A
B
C
D
E
F
M200
238
218
130
226
6
155
M300
328.5
310
130
316
5.8
180
Purpose
- Road traffic lights are destined for regulating transport and pedestrian circulation.
- Light source of traffic lights is LED signal module.
- Traffic lights are manufactured in accordance with IEC 52282-2004 and have versions: transport T.1, T.1.right, T.1.left, T1.right-left, T.1 horizontal, T2 pedestrian P.1.
- Traffic lights consist of base unit and two or three (depending on version) light optical components.
- LED signal module of traffic lights is produced in two versions: M200 and M300 as per IEC 52282-2004.
- Overall dimensions of the modules permit their installing in the light components of traffic lights of analogue types.
Advantages
- Simple and convenient in maintenance and using
- Repairable
- Light filter and body are made of shockproof material – polycarbonate
- Sustains temperature difference without change of light optical properties
- Absence of phantom effect
- Energy saving
Installation and maintenance:
- Traffic lights are fixed to the pole using clamps included to the device.
Light source type: light emitting diodes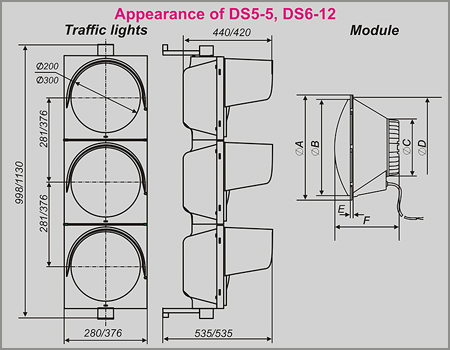 Technical specifications of DS5-5, DS6-12
DS5-5
DS6-12
Supply voltage
220+10% -20%V

Mains frequency
50Hz
Maximum power consumption

8W
Chromaticity coordinates and light intensity of the signals
IEC 52282-2004
Mass, not more than
Transport version T.1
9,5 kg
12,5 kg
Pedestrian version P.1
6,5 kg
8,5 kg
Overall dimensions, not more than
Transport version T.1

998x281x535 mm

1130x376x535 mm
Pedestrian version P.1

720x281x535 mm

910x376x535 mm
Light component
281x281x440 mm
376x376x420 mm
Degree of protection

IP65
Class of protection against electrical shock
II
Operating temperature range
from -40˚C to +60˚C
Service life
10 years